Students from the USA: We would like to come to VSUES once more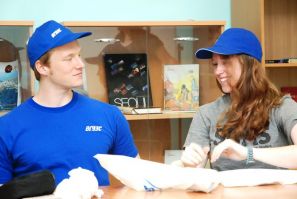 Students from America came to VSUES in June to have a language practice. Duration of the language training is 10 weeks. Two of the students - Hilary Cooksley and Mark Niegelsky completed their studies in our university and went back to the USA last weekend. Four more students will leave for home in the first half of August.
We met with Hilary and Mark before their departure and with other students as well and learned about impressions of the American students when leaving VSUES and Vladivostok. Foreign students said that they had a fruitful study of the Russian language and had significant improvement of the language level over the past time.
- Now I speak Russian much better than two months ago, - said Hilary Cooksley. - I am very proud of myself for the results that I have achieved during the studies. I would like to mention that VSUES has competent and qualified teachers that are always ready to help.
Senior teacher of the department of the Russian language Olga Derbeneva remarked that the language practice helped the foreign students overcome a language barrier and emotional discomfort that was caused by coming across a different culture and being in an unknown country.
- Already two weeks after the arrival the American students started to speak and understand Russian better. It is important that they not only learned new things, but could immediately use them in practice. During the studies they have achieved good results in such subjects, as grammar, everyday speech, Russian literature, writing.
The American students learned Russian not only in the classrooms of the university, but also in informal setting. Teachers of the Russian language department organized for them an extra mural lesson in the family recreation park "Shtykovskyie ponds". In their free time the students went on a sightseeing tour in Vladivostok and visited local attractions. Students from the School of foreign languages in VSUES helped them adapt in an unknown place and accompanied them to different events in the city. Smiley students from the USA liked Vladivostok and its amiable citizens.
Mark Niegelsky shared his impressions from the language practice:
- I have learned and seen a lot during these two months and I would like to come back to Vladivostok and VSUES once again. I have made many friends among the local young people. So, I am leaving Russia with sad feelings. Unfortunately, the time went very quickly.
Source: VSUES